For all the wanderlusts and wanna be wanderers, who are currently under lockdown (and waiting impatiently to explore), here is an oasis to fill your deserted quarantine life, a short travel guide to the 'land of lakes', Nainital. My trip to Nainital was just for two days, but we have managed to cover almost all the major destinations in 48 hours. Nainital is a perfect weekend getaway and the best place to make travel plans with a minimum number of days available in your hands. Here I am featuring the ultimate travel guide and the best Places To Visit In Nainital in 2 Days.
I never knew the value of travelling in my life until the lockdown happened. So I have penned down my Nainital travel guide passionately. Keep reading!
List of Places to visit in Nainital in 2 days
Lovers Point
Natural Cave Garden
Nainital High Altitude Zoo
Snow Point
Naina Devi Temple
Naini Lake
Mall Road
Tibetan Market
THE FIRST DAY IN THE CITY!
We reached our hotel in the evening. I was very excited to take a tour inside our staycation and would definitely recommend this place for your trip to Nainital. I can undoubtedly suggest "The Pavillion" to anybody planning to travel Nainital for its fantastic service, restaurant (thought to take the chef home back then!) and the rooms. Rooms were divided into two parts as in the master bedroom and an equal-sized bedroom for me. I do believe that the stay has a significant share in making the trip beautiful and The Pavillion made our halt indeed the most memorable.
Expense: Rs.4516/- per night with complimentary breakfast.
By morning, we stepped out of the hotel to explore the beautiful city. It was quite an adventure because we went independently and not as a part of any package (this was the first time we did that!) and hence we had no clue about Nainital. However, we were able to catch the taxi easily as the hotel was perched on the heart of the city.
But before taking the ride, we decided to randomly collect information about the local places, packages and their respective cost from taxi drivers. Make sure you chose the package wisely with a decent rate and a friendly guide. The price was around 2500 INR for Himalaya Darshan which includes five places of visit- Eco Cave Garden, Lover's Point, Suicide point, Horse ride at the Bhara Pathar, Nainital high-altitude zoo. Due to the health issues, my mother refused to do the Horse ride. As compensation, we were taken to Naina-Devi temple and Snow viewpoint (after visiting these places, I felt the decision of not taking the Horse ride was fair enough!).
The roads were narrow and crowded, most of the days except when it snows during December, January and till the first week of February. The climate remains pleasant during all other months, and the busy roads remain intact. So here go, Places to visit in Nainital in 2 Days.
1. Lovers Point
Our first destination was the lover's point; the suicide point was only a little afar (coincidence or whatever it meant!). Lover's point had a beautiful view of Naini lake down, surrounded by the misty scenic beauty of the hills and the astounding lakes flowing down. Hard to believe that people went 'there' to commit suicide!
We heard that there could be horse rides to show us more but did not dare to try it on those roads! If you are adventurous enough, please go for it! Honestly, there was nothing much to explore in lover's point, and hence we headed to our next destination.
2. Natural Cave Garden
Natural Cave Garden is also known as the Eco cave garden. However, it is not wholly natural as some of the greeneries were set by the humans, making it the half human-made forest. Nevertheless, the caves were natural and different signboards of tiger, panther, lion, and porcupine guided us to their caves (without them). The caves looked the same with some of them darker than others, and some had steep endings.
There are beautiful benches and arches of flowers around the place. One can click stunning pictures of nature, so keep your camera ready. The caves were once the natural habitat of these animals. However, it was good to see one for the first time and to experience what is it to feel while you are inside a cave!
ENTRY FEE:
60/- per head ( Adult)
25/- for children
25/- (camera)
It is open on all days ( Monday – Sunday) from 10 a.m to 4.30 p.m.
NOTE: Avoid the cave trip if you are claustrophobic. Also, a huge crowd will accompany you inside the cave, which might make you feel suffocated and uncomfortable. So avoid it if you are not okay.
3. Nainital High Altitude Zoo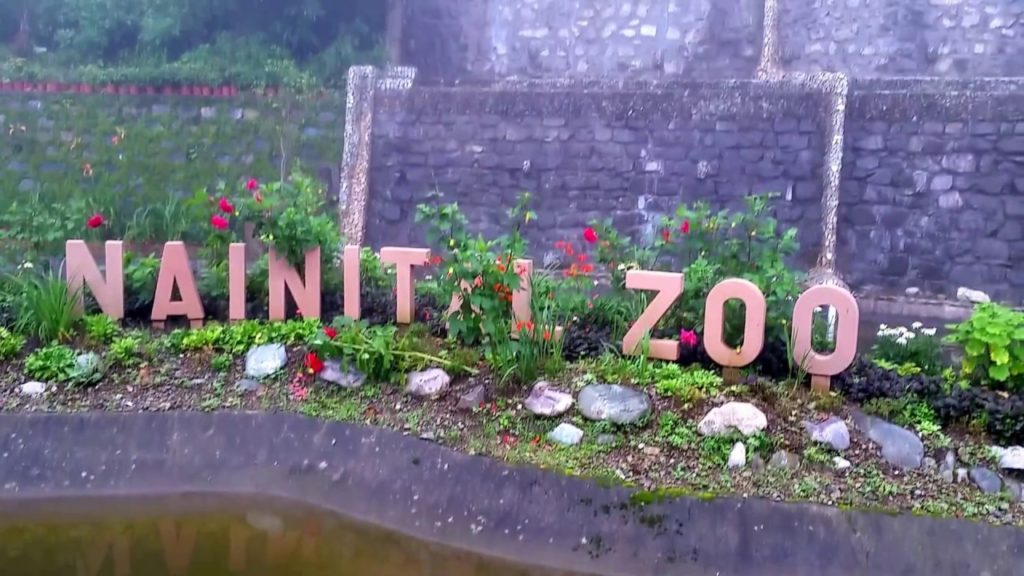 The zoo was well maintained. It was wonderful to witness different types of animals, birds, and trees coexist each other. Though I am against caging animals, it was so pleasing to see animals being taken care of properly, which seldom happens in other Indian zoos. The suffocation I used to feel while entering a zoo was surprisingly missing here!
It is open on all days except MONDAY from 9.30 a.m to 4.30 p.m.
Entry fee:
Rs 50/- for adults
Rs.20/- for kids.
Entry is free for old and differently-abled.
After the visit, we were supposed to have lunch, but unfortunately, we could not find any restaurants nearby.
4. Snow Point– Places To Visit In Nainital
Well, we came to snow point by car and viewed the Himalayas with the 'telescope'. Fortunately, it was not cloudy, and hence we could see the mountain peak. Now, why was it told with zero excitement? That is because we realised later that if you take an aerial ropeway to the snow point from a place called Mallital, you will get a mesmerising view of the Himalayas as well as the city. So, make sure you do that at least when you visit the place.
Talking about snow point, you can hike or take the ropeway to the end. After enquiring, we came to know the prices are very reasonable. 150/- for adults and 100/- for kids. A few minutes inside but worth it! My favourite memory of the place was the Maggi shops. Sorry but the trip to a hill station is never complete until you eat this steaming and tasty Maggi with the view of snow-capped mountains around you! I still cannot figure out the mystery behind the temptation to eat (only) Maggi while in hill stations! If I am right, there were a few temples and monasteries nearby, and the entry is free.
Do not try to do shopping around these places. Kindly control your shopping temptations as you can end up spending too much.
We could not keep track of time because unlike south India, the afternoons were cold and a pleasant climate sustained in Nainital throughout the day. It was almost evening in no time, and we had only one destination left, and that is
5. Naina Devi Temple– Places To Visit In Nainital
Everyone is spiritual in one way or the other. And, my mother is sure high with her spiritual connection with God! Naina-Devi temple, asks the women to cover their head with a red shroud before entering (available near the temple). There was this sudden reminiscence of Golden temple, Amritsar where I was asked to wear the shawl right, every time it fell.
Naina Devi temple is believed to be one of the most powerful temples in India. While Goddess Sati (first wife of Lord Shiva) died, Lord Shiva turned hysteric and started dancing the famous Thandava. While Lord Vishnu decided to put an end to this, he cut her body into 51 pieces (which fell and came to be known as these points of worship in different places of India, Bangladesh, Pakistan, China, Nepal, Sri Lanka). However, the 'eyes' of Goddess Sati fell in Nainital. Nainital residents have great belief and do Arti to the Goddess every morning and evening.
By the time we finished the darshan, it was late evening. We had tea together. He explained to us what to see in the city and where to go. Later on, we decided to take a walk near the Naini lake. It was beautiful. It is okay even if you don't go roaming around the places, but sit on a stone bench and enjoy the breeze. There were plenty of snack shops from where we tried the local snacks like egg pakoras, momos, thukpas ( in the best possible Tibetan style), Bun Tikki ( which is the mix of both Vada Pav and burger).
There is no entry fee for the temple.
Open from 6.00 a.m to 10 p.m.
THE SECOND DAY IN NAINITAL
We started very late. Since the first day was really long, we had to sleep properly before starting fresh. As soon as we stepped out, the first thing we wanted to do was the boat ride in Naini Lake. This was my favourite part of the whole trip to Nainital.
8. Naini Lake (Places To Visit In Nainital)
What a beautiful place!! Spreading its beauty across the area, the lake is such a massive treat to your eyes and is one of the best Places To Visit In Nainital. If you are lucky, you will get to see deers standing on top of the mountains. The crystal clear waters of the lakes attract tourists from all over the world.
NOTE: Please do not carry food items in the boat and if you are with small children, ask them not to stand in the boat. The Naini lake is bottomless and risky.
It is open on all days from 6.00 a.m. to 6.00 p.m from March to June.
Cost: The rate depends upon the boat and time, and it varies from 150 – 200 per person.
9. Mall Road
Mall Road and the Tibetan market are the two shopping centres of Nainital. What I really loved is that there won't be any vehicles on the streets after a particular time. And they are pretty strict about the vehicle regulations.
If you are planning to gift something for your dear ones back home, then consider buying Nainital Candles. Yes! Candles of different shapes and sizes, scented or floating. There are plenty of shops around the streets that are exclusively selling candles, and you can bargain for better rates.
Mall road is filled with eateries that serve scrumptious and authentic Tibetan, Thai, Chinese cuisines. The mall road is an ultimate shopping experience with bustling restaurants and vibrant shops. Also, you can sit in the lakeshore and watch the world passing by.
10. Tibetan Market
After the great Sarojini market in new Delhi, this Tibetain Market is one shopping street that surprised me with the range of pulsing shops. You can get anything to everything in this place. This is a heaven for shopaholics as it sells all type of clothes at affordable rates.
The shopping vendors are lovely, making it a perfect place for the ultimate indulgence. Moreover, the markets are neat, and they also have paid washroom for men and women. The market portrays another side of Nainital that is full of life. When the media and bloggers portray the city with mountains and lakes, this street gives a contradictory image of Nainital. People are busy and loud here. The twinkling lights of the road at night will brighten the vibe of the city. It is highly recommended to those who want to explore the night life of Nainital.
The next day we were forced to leave Nainital. Though we had a great time exploring the major destinations, there were few more spots left. Nainital is a great escape from your busy life. A few days away from the routine on a small city of lakes, mountains with lots of food, love and peace are highly recommended if you really want a break.
Best places to stay
Nature drops, (according to the rating and reviews) is said to be an excellent place to stay in Nainital.
We chose 'The Pavillion' and as mentioned above was an enjoyable experience.
NOTE: Check for car parking facility before booking.
Best time to visit
Any month except December, January and early February when it snows. But, if you want to watch the snow and do nothing, then why not?
Things to carry
It gets freezing at night, so taking a sweater and muffler shawl is advisable.
The network is relatively weak in Nainital, hence carrying a Wifi is also advised. Don't forget to take the chargers.
These are the best Places To Visit In Nainital in 2 days. If you have any other recommendation, then comment below.
LIKE IT? PIN IT!