Ever since I watched the Malayalam movie Yodha, Nepal was in my mind. Ever since the Kuttimama and Dolby Ammayi appeared in the screen, Nepal was in my bucket list. I hope all Malayalis do have Nepal in their bucket list. So, here goes my Ultimate Nepal Tour Guide From India- Things To See And Do
But the time I decided to hop on to my dream destination, chaos happened!!!!! Yes… I am talking about Kerala floods. Kerala floods and the way we pulled back( and the sheer ignorance of central government) is very famous in the global level. Reaching the airport through the flooded roads was the biggest defiance I faced in my life. The airport was the greatest chaos everrrrrrr…. the rescue missions, army and what not.
Though late, the flight took off and then I witnessed the most dreadful scene- my homeland is submerged entirely under water. I wasn't happy- not at all. But closed my eyes taking a giant leap and thinking I have done the best for my homeland. Reaching Delhi, I got the gig of the trip. Sipping a costa, I just started my journey to Nepal.
Day 1 – Kathmandu
Kathmandu is a crazy yet charming city with a Himalayan backdrop. As soon as the flight nears the Nepal radar, you can see the tip of the mighty Himalayas peeping above the clouds( an easy way to see the Himalayas without trekking). The airport is surrounded by giant mountains which is heavily breathtaking. As soon as I stepped out, it was just a bombardment of visuals from 'Yodha' movie in my head( remember Mohanlal's bag being stolen in front of the airport).
The narrow roads, wandering cows, the smell of street foods and the beauty of chaos makes Kathmandu a charming city. There is plenty of stuff to do and see in Kathmandu- from visiting the touristy places to exploring shopping streets and cafes. (Nepal Tour Guide From India) .
Boudhanath Stupa
The prayer wheels and om chants are reverberating in my ears when I think about Boudhanath stupa. The temple took me to a mystical world- prayer chants, Buddhist monks, sharp aroma of Agarbhathis and the group of pilgrims.
The 36-meter-high stupa was gazing at me with pride. It is known to be one of the largest stupas in South Asia. Buddhist believers walk around the stupa in a clockwise direction chanting mantras, and I too did the same copying them. Moreover, there are plenty of cute shops around the stupa, where you can grab some authentic Nepali accessories.
Pashupathi Nath temple
Guess what? I bumped into an aghora during my visit to Pashupati Nath temple and was very excited to take pictures with him. Later on, I understood that it is nerolac paints instead of bone ashes in his face. Yes, guys, he was a duplicate Agora!
The temple is located in the banks of the bhagamathi river, where the Hindu cremation takes place. Dedicated to Lord Siva, the temple was built in the 5th century.
I have witnessed Hindu cremations before, but for those who are new to this, I bet it would be a jaw-dropping thing to behold. All the best guys!
Swayambhunath Temple
The Buddhist temple enriched with culture and ancient sculptures with monkeys all around is a beautiful place to have an eagle eye view of Kathmandu city. There are plenty of lookouts where you can view the beauty of Kathmandu city, which is desperately trying to rebuild itself from the past earthquake.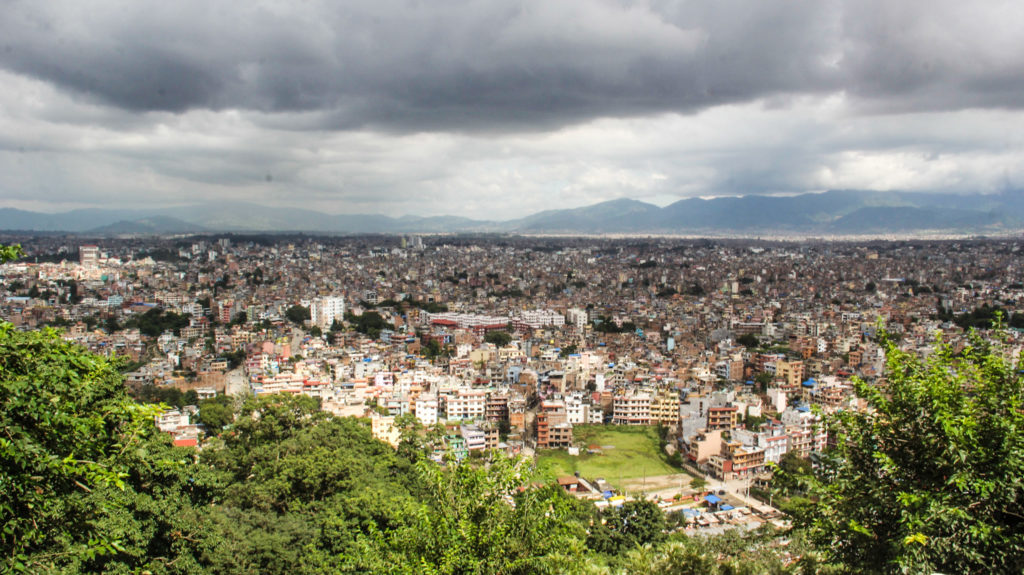 Make sure that your stomach is filled before climbing up the stairs (I was damn hungry then).
Thamel for shopaholics
Thamel is a crowded commercial street in Kathmandu and a mandatory visit in my Nepal Tour Guide From India. From clothes to mountain gear, you will find everything in this street. The busy road is filled with bars, clubs, souvenirs shops, and tattoo parlors which is entirely busy till late at night. Yes, happy news for night owls!!
My bag was heavy after the Thamel haul, but the wallet was light to carry !!
Durbar Marg
Known as the posh area of Kathmandu, Durbar marg has plenty of cafes, shops, and casinos. Is that a bulb on your head hearing casinos? You can try your lady luck in Nepal casinos. What if luck favors you in a foreign country?
Take a stroll around Durbar Marg and grab some beer or have a candlelight dinner.
Day 2- Pokhara
I am extremely glad that I reached Pokhara in one piece. The narrow mediocre roads nearly killed me a couple of times. Well, I can't blame ( its same in my country as well).
Pokhara has an airport, so I recommend you to travel by flight from Kathmandu. (seriously guys)
In between, we had a stop for the manacamana cable car. It was steep and scary, but I relished it.
Day 3 – The hippie world
Pokhara is a mandatory visit if you are traveling to Nepal. The place is just amazingly bohemian with plenty of hippies and yogis gambling there even with their family. It is peaceful, serene and tranquil with the mighty Himalayas as a backdrop!
The hipster cafes, shops, and pubs make it a mesmerizing corner of Nepal.
And yes, a not so lousy nightlife!!
Phewa lake
Phewa lake is an unavoidable destination on my Nepal Tour Guide From India. Float in the lake and enjoy the spectacular beauty of the mountain ranges around. Then you will know why it is ineludible.
Bidhbhasini temple
Climb up the temple stairs and gaze the scenic beauty of Pokhara.
Davi's fall
The waterfall got its name Davi's fall after a foreigner women names Davis fell and drowned while taking a shower. Her body was never found. As you go and stand in the tip of the cliff, you can see the most beautiful part of the waterfall that descents through tunnels to Mahendra cave.
Mahendra cave
The cave was the highlight of the whole Nepal trip. It is situated very close to the Davi's fall. There is a spiral step to the entrance of the cave from where you will again walk down through the slippery path. When you reach the end of this limestone cave, you will see a huge slit in the center. From there you can view the bottom portion of Davi's falls.
Day 4 – Lalitpur
Back to Kathmandu and exploring Lalitpur with a broken backbone( as a result of a long car journey, but anything for exploring). My Nepal Tour Guide From India ends with Lalitpur. The architectural wonders of the Lalitpur city and the mythical world of yogis makes this place a mandatory visit. There is a historical Patan museum to explore the relics of yesteryear.
QUICK FACTS (Nepal Tour Guide From India)
Currency: The Nepali currency is the Nepalese Rupee
Clothing: Be respectful while visiting temples
Drink sealed bottled water
Indians don't need passport or visa to enter Nepal
Where to stay in Nepal?
Hyatt Regency is a fantastic place to stay in Nepal. If you are looking for some experiential stay on budget, then I would recommend checking Airbnb.
We opted Kuti resorts to stay in Pokhara and was pretty satisfied.
What to eat in Nepal? 
Never forget to try their authentic thali and soups.
There are plenty of cafes both in Pokhara and Kathmandu to have some scrumptious Nepali cuisines.
So that is it! My Nepal Tour Guide From India. If you have any queries, please leave a comment.
Check out this video from Nepal