Are you dreaming of a far-flung much-needed escape from your cramped home? Are financial constraints keeping the travel away from the menu? Then I would like to say that you don't need to be despair about the current situation. Without spending a fortune, you will be able to disconnect by having a staycation in the touristic destination of God's own country. From the grand tea estates resorts to the luxury spa retreats, there are plenty of best resorts in Kerala waiting at your doorsteps ready to get discovered without having the hassles of stepping into an airport. 
Ready to pack your bag? Then here is the list of 7 best resorts in Kerala
1. Coconut Lagoon – CGH Earth Resort Kumarakom 
Set on the edge of the backwater canals of Vembanad lake, the interiors of CGH Earth is hovered by honouring the Kerala tradition. Right from the rustic dining in the paddy field to bird watching, canoe ride, ayurvedic treatments, butterfly garden and dance shows, the resorts offer ultimate escapades from the hurry buries of daily life.
Address: Kottayam – Kumarakom Rd, Kavanattinkara, Kumarakom, Kerala 686563, India
Price range: 8000- 10,000 INR 
2. Vythiri Resort Wayanad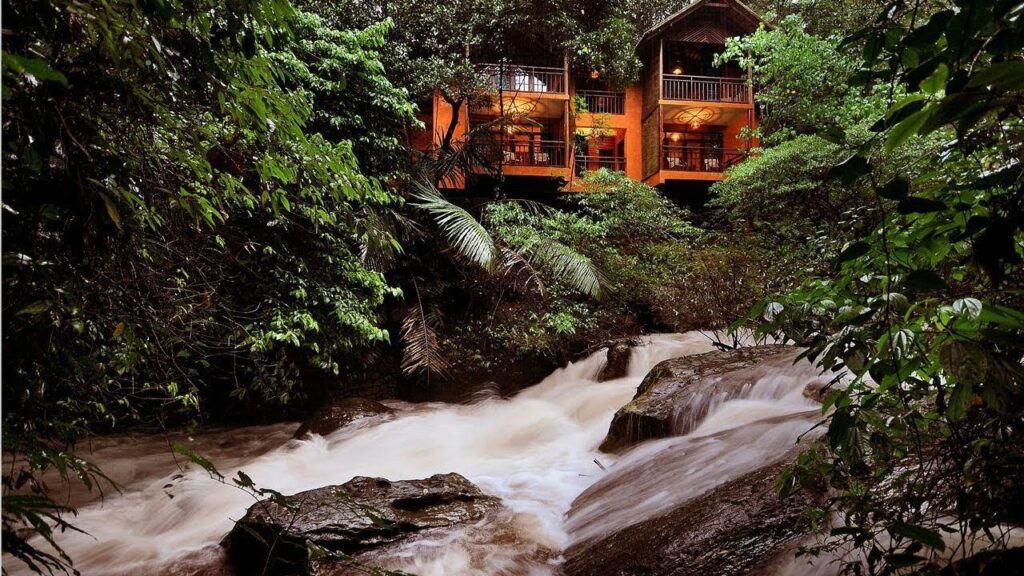 You don't need to go to the dense jungles to enjoy the wilderness of nature. Vythiri resort is a huge property with lofty tree houses providing a picturesque view of the forest and stream. There is a rope bridge that leads you to the cafe and restaurant. Oh God, this place is just heaven. 
Address: Vythiri Resort, Lakkidi P.O, Wayanad 673 576, Kerala, India.
Price range: INR 9000
3. Nature Zone Jungle Resort Munnar
At Nature zone Jungle Resort, the guest can retire to one of the treehouses, each of which is reminiscent of the jungle lives. You can also take part in trekking and plantation tours in nature zone jungle resort which has mesmerising views of lawns and orchards. 
Address: Pulippara, Near KSRTC Bus Stand, Nullatanni, Munnar, Kerala 685612, India
Price range: 6000 INR
4. Hornbill Resort Thattekkad
The resort group has snapped up this charming property overlooking the Salim Ali Bird Sanctuary's lowland forests at Thattekkad in Kerala. The Hornbill Camp consists of cottage tents built on raised platforms and offers trekking, hiking opportunities. 
Address: Palamattam P.O, Kothamangalam – Perumbankuthu Rd, Thattekad, Kerala 686681, India
Price range: 6000 INR
5. Marari Beach Resorts (Best Resorts In Kerala)
Taking its theme from the fisherfolk of this region, Marari Beach Resort is a 30 acres property with coconut groves, lily ponds, fruit trees and a large organic farm. This seaside village experience is definitely going to gift you a relaxing vacation. 
Address: Marari Beach P.O, S.L.Puram, Mararikulam, Kerala 688549, India
Price Range: 8000 INR
6. Tent Stay In Gavi
If you want to enjoy the pristine beauty of the forest haven Gavi, then book one-night tent stay through KFDC website. The stay includes food, tea, boat trip, jeep safari, guided trekking and plantation visit. You can also camp inside the dense forest. How does that sound?
Address: Gavi, Kerala 685509, India
Price range: 5500 INR for two persons
7. House Boat Stay (Best Resorts In Kerala)
History and drama flavour the corridors of the Kerala backwaters houseboat while the rooms serve you an appropriately gilded experience. The relaxed and luxurious houseboats invite people from all over the world with games, movies, scrumptious food and fishing activities on board. You can enjoy the ride in Kottayam and Allepey districts of Kerala. 
8. Dream Catcher Resort, Munnar
(Best Resorts In Kerala)
Built-in the midst of a tea and cardamom plantation, Dream Catcher resort is a fairytale property with tree houses perched on the top of giant trees overlooking the scenic beauty of Munnar. Gob smacking views are the soul of this property. Whether gazing out of the window or walking through the hanging bridge, it is all about green and mountains here at Dream Catcher. 
The multi-cuisine restaurant serves some fantastic cuisines as well. Read detailed review on Dream Catcher Resort on my blog. 
Address: Tea Company,Bisonvalley Road, Rathnagiri, Kerala 685565
Price: 6000 INR for two
9. Elixir Hills Resorts, Munnar

Travellers flock to Elixir Hills for its play area, private waterfalls and the beautiful swimming pool with the backdrop of lush green nature. A true highlight of Elixir Hills is the private waterfall in the middle of a dense forest, so for nature breaks in Kerala, it is a stunning choice. The main reception area erected by the highly talented team of architects blends elegance with grandeur- chandeliers, glasses, and wooden decors will add a serene touch to the interiors.
The vast acres of property includes a swimming pool, spa, coffee shop, ayurvedic treatments, trekking facility, bird watching, bonfire, nature walk, indoor games, sauna etc. Read detailed review of Elixir Hills on my blog. 
Address: Near Letchmi Tea Estate, Munnar, Kerala 685612
Price: 7000 INR for two
 IMPORTANT: Prices displayed on the blog may vary depending upon the seasons.